Church That Feels Like Home
No matter where you find yourself along your journey of faith, or if you have yet to begin, you are welcome here.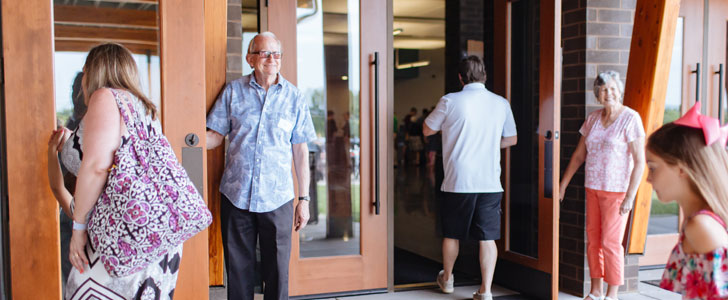 Whether it's your first time at church, your first time in a long time, or you attend every week, we want you to feel at home at Providence Church.
When you enter the front door you'll be greeted by a member of our Hospitality team. They can help direct you wherever you need to go. In the lobby you'll find people catching up and making new friends. Join in the conversation or grab a donut and a cup of coffee before heading into the Worship Center.
How should I dress?

Most people dress in whatever's comfortable, from jeans to business casual. Our pastors wear jeans. But if dressing up is more your style, that's great, too.
What is the worship experience like?

Our services usually last an hour. When the service starts, our worship team leads the congregation in several songs, both current worship songs, and traditional hymns. A pastor then shares a message from the Bible intended to inspire and challenge you. You'll find our services are a blend of old and new. We have a relaxed atmosphere and many elements of modern worship. But we also often use liturgy in worship and recite the Lord's Prayer. We take communion together at the end of every service.
Guests, we want to meet you, and we have a free welcome gift, too!

If you're a guest, you will never be singled out in worship. After the service, you're invited to visit our Welcome area, where a member of our team would love to meet you, answer any questions you have, and give you a small gift.
What Will My Child Do?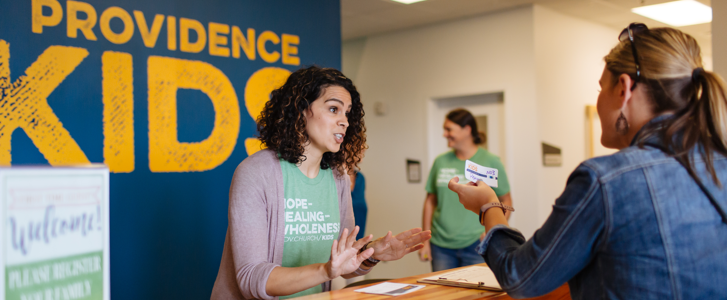 Childcare (Infant-5th Grade)
Children are always welcome in worship. If your child (infant through 5th grade) would be more comfortable in Providence KIDS, she or he will have a great time! You can check them in at the Providence KIDS welcome desk, right next to the main entrance, and they will enjoy age-appropriate Bible fun led by volunteers and staff who are both Red Cross CPR trained and Safe Sanctuaries certified.
We have a passion for serving families and children with special needs. Every child is paired with a trained "shepherd" so that she or he may participate in worship or in Providence KIDS activities. For more information, visit our Providence KIDS page.
What Will My Middle or High School Student Do?

Middle and high school students attend worship. Outside of worship, students meet weekly in small groups and at a combined monthly gathering called WAKE.
We're More Than Just Sunday Mornings!
There is so much more to Providence than what happens during Sunday worship. In fact, you'll find we are just as committed to serving those outside the walls of our church as we are those on the inside. You can find places to serve all year long. Whether someone regularly attends Providence or is disconnected from God and the church, we want them to experience the hope, healing, and wholeness that can only be found in Jesus.
If this vision connects with you, we hope you'll visit Providence Church. Even more, we hope you'll jump in and help bring it to life. We can't wait to meet you!
Next Steps
How can we help you on your journey?