Offering Companionship Along Your Spiritual Journey
Are you so busy you can hardly catch your breath? Does the Bible seem bland? Are you having difficulty forgiving? Want a deeper spiritual life but not sure where to start? Wondering what Jesus is inviting you into at this time in your life? These and other questions are explored through the Ministry of Spiritual Direction, in the form of Individual Spiritual Direction, Silent Retreats, Classes, and other opportunities.

Individual Spiritual Direction
Meeting once a month with a spiritual director offers one-on-one companionship along your spiritual journey. Spiritual directors have gone through theological training and hold certificates in this ancient ministry. Providence Church offers to pay for two sessions of spiritual direction for those interested. Learn more about these area directors:

Silent Retreats
Explore what silence can mean for you and your relationship with God. We offer a variety of silent retreat options throughout the year to suit your comfort and interest level, from a three-hour introductory retreat to overnight retreats at a convent or monastery.
Scholarships are available for all retreats and carpooling is available for those taking place out-of-state.
Select a silent retreat below to register! Please notice that some retreats have multiple options depending on your preferences.
Taste of Silence, Nov 14, 2020

New to silence? Come to this introductory time to experience it for yourself. We'll begin with a short gathering and prayer after which you can feel free to walk the Hope & Healing trails, find a corner to cozy up in and rest, be creative in our craft room, and discover new ways to be with and hear from God. It's a great way to learn and begin the spiritual discipline of silence.

Sorry. This form is no longer available.

Centering Prayer
Experience 20 minutes of silent meditation followed by 40 minutes of reflective Scripture reading and conversation. To help you in your journey, download the free Centering Prayer app available through Contemplative Outreach on Google Play or iTunes.
Meets weekly in the Providence Church Student Room or Worship Center.

Attend at the time most convenient for you.
Fridays, meeting virtually from 9:00–10:00 am, contact Kasey Hitt or Marla Braun.

Walking as a Spiritual Practice
From Eve and Adam's walks with God in the cool of the evening to the disciples' walk with the resurrected Christ on the way to Emmaus, the Bible points to numerous instances (more than 600) of walking as part of the human experience with God. Whether as short as a labyrinth walk or as long as a pilgrimage, the physical movement of walking and running has long been a part of spiritual practice and a life of discipleship. Join us and experience for yourself walking as a spiritual practice.
Walks take place at

Providence Church

and begin at 8:00 AM and finish around 9:15.

This is an open group accessible to most fitness levels.

Please contact Scott Spradley with questions or visit

spradleyspiritualdirection.com

.

COVID-19 guidelines will be followed.
Upcoming Walks & Topics:
AN ADVENT JOURNEY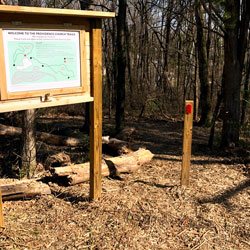 Join us for a special Advent Journey as we walk and pray our way through the scriptures of the season. Each week we'll engage the scripture in a unique way as we connect with God, creation, and each other on a journey into the mystery of the incarnation.
Nov 28 – Hope: Walking and Praying with Scripture
Dec 5 – Peace: Centering Prayer, the prayer of consent
Dec 12 – Joy: Walking into the Story engaging the scripture using our five senses
Dec 19 – Love: Praying the miles, with each step, we'll consider those we love and meditate on how Christ might be present in, to, and through them.
Join us for Walking as a Spiritual Practice!

Registration is not required but it does allow us to inform you of upcoming walks and changes due to weather or other circumstances.
Events
The Spiritual Direction ministry offers other events throughout the year. Below you will find other upcoming events.
Java & Journaling Online, Jan 2, 9:00 am - 12:00 pm

Journaling is a great way to connect with God and open yourself to hearing God's voice. Grab your own cup of java (or tea) and join us for an interactive workshop where you'll discover how you can draw closer to God and grow spiritually through journaling. Have a journal and pen handy and get ready to learn the basics of journaling as a spiritual practice. Led by Sally Sharpe, Spiritual Director.