This is an important time in our world, nation, and church.
Now, more than ever, God, we seek your direction and wisdom.
Here you will find a list of notable resources
and registration to be part of our developing community efforts.
Stay Informed & Get Involved
Please complete the form below to stay informed of the efforts we'll continue to make as a church in our antiracism efforts and the ways you can be involved.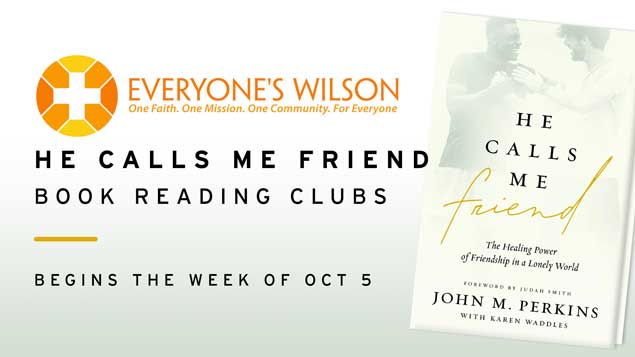 To continue the race reconciliation conversation, Everyone's Wilson is hosting community-wide online book clubs beginning the week of October 5. There is a club meeting nearly every day of the week so you can find a time that works best for you.
Between the World and Me
by Ta-Nehisi Coates
In a profound work that pivots from the biggest questions about American history and ideals to the most intimate concerns of a father for his son, Ta-Nehisi Coates offers a powerful new framework for understanding our nation's history and current crisis.
I'm Still Here: Black Dignity in a World Made for Whiteness
by Austin Channing Brown
From a powerful new voice on racial justice, an eye-opening account of growing up Black, Christian, and female in middle-class white America.
The New Jim Crow: Mass Incarceration in the Age of Colorblindness
by Michelle Alexander
The New Jim Crow has spawned a whole generation of criminal justice reform activists and organizations motivated by Michelle Alexander's unforgettable argument that "we have not ended racial caste in America; we have merely redesigned it."
White Fragility: Why It's So Hard for White People to Talk About Racism
by Robin DiAngelo
In this "vital, necessary, and beautiful book" (Michael Eric Dyson), antiracist educator Robin DiAngelo deftly illuminates the phenomenon of white fragility and "allows us to understand racism as a practice not restricted to 'bad people' (Claudia Rankine).
Why We Can't Wait
by Dr. Martin Luther King, Jr.
In this remarkable book—winner of the Nobel Peace Prize—Dr. King recounts the story of Birmingham in vivid detail, tracing the history of the struggle for civil rights back to its beginnings three centuries ago and looking to the future, assessing the work to be done beyond Birmingham to bring about full equality for African Americans.
ColorFull: Celebrating the Colors God Gave Us
by Ms. Dorena Williamson
Imani and Kayla are the best of friends who are learning to celebrate their different skin colors. As they look around them at the amazing colors in nature, they can see that their skin is another example of God's creativity! This joyful story takes a new approach to discussing race: instead of being colorblind, we can choose to celebrate each color God gave us and be colorFULL instead.
Do Unto Otters: A Book About Manners
by Laurie Keller
Mr. Rabbit's new neighbors are Otters. But he doesn't know anything about otters. Will they get along? Will they be friends? Just treat otters the same way you'd like them to treat you, advises Mr. Owl.
In her smart, playful style Laurie Keller highlights how to be a good friend and neighbor―simply follow the Golden Rule! This title has Common Core connections.
God's Dream
by Archbishop Desmond Tutu and Douglas Carlton Abrams
Archbishop Desmond Tutu has a vision of God's dream, which he shares here with the youngest of listeners. It involves people who reach out and hold each other's hands, but sometimes get angry and hurt each other — and say they're sorry and forgive. It's a wish that everyone will see they are brothers and sisters, no matter their way of speaking to God, no matter the size of their nose or the shade of their skin.
Moses: When Harriet Tubman Led Her People to Freedom
by Carole Boston Weatherford
This poetic book is a resounding tribute to Tubman's strength, humility, and devotion. With proper reverence, Weatherford and Nelson do justice to the woman who, long ago, earned over and over the name Moses.
Separate Is Never Equal: Sylvia Mendez and Her Family's Fight for Desegregation
by Duncan Tonatiuh
Almost 10 years before Brown vs. Board of Education, Sylvia Mendez and her parents helped end school segregation in California. An American citizen of Mexican and Puerto Rican heritage who spoke and wrote perfect English, Mendez was denied enrollment to a "Whites only" school. Her parents took action by organizing the Hispanic community and filing a lawsuit in federal district court. Their success eventually brought an end to the era of segregated education in California.
Voice of Freedom: Fannie Lou Hamer: The Spirit of the Civil Rights Movement
by Carole Boston Weatherford
Despite fierce prejudice and abuse, even being beaten to within an inch of her life, Fannie Lou Hamer was a champion of civil rights from the 1950s until her death in 1977. Integral to the Freedom Summer of 1964, Ms. Hamer gave a speech at the Democratic National Convention that, despite President Johnson's interference, aired on national TV news and spurred the nation to support the Freedom Democrats.
We All Sing With the Same Voice
by J. Philip Miller
First featured as a song on the widely popular Sesame Street, the beloved educational children's television show, We All Sing with the Same Voice is a joyous read-aloud that embraces the notion that no matter where children live or what they look like, they're all the same where it counts—at heart!
Whoever You Are
by Mem Fox
Every day all over the world, children are laughing and crying, playing and learning, eating and sleeping. They may not look the same. They may not speak the same language. Their lives may be quite different. But inside, they are all alike. Stirring words and bold paintings weave their way around our earth, across cultures and generations. At a time when, unfortunately, the lessons of tolerance still need to be learned, Whoever You Are urges us to accept our differences, to recognize our similarities, and-most importantly-to rejoice in both.